Felicity's School Room Sex

Viewed: 101 135 Duration: 7min 07sec
Felicity tells about the time when she was 18 and was really into her boyfriend - so into him that the idea of sex at school was a real turn-on. But things go awry when they're interrupted...
Recent comments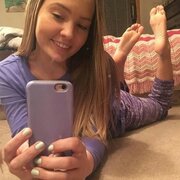 0
+1
-1
wtyates55 2 months ago
A great story and I think you handled the situation very well and very mature. WoW! Were your tits as large back then. I reckon the teacher went back to that place every day for years just hoping he would catch you naked again and see those titties. Nice story Felicity.